---

About School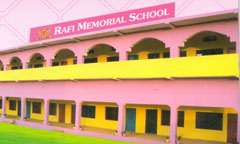 Welcome to Rafi Memorial English School! We are an institution of academic excellence and achievement that was established in 2006. Our school is located in a rural area, and we are committed to providing a high-quality education to the children of this community.
At Rafi Memorial English School, we believe that education is more than just acquiring information. We aim to provide an all-round education that focuses on developing the powers of the human mind and spirit. We encourage our students to become multidimensional individuals who are not just academically proficient, but also socially responsible, creative, and confident.
Our school has a team of highly qualified, dynamic, and multi-talented faculty who are committed to providing a high-quality educational experience to our students. Our teachers work hard throughout the year to create a supportive learning environment that inspires our students to explore new ideas and perspectives. We believe that every student has the potential to be a leader, and we encourage our students to develop leadership skills through various activities and programs.
In addition to academics, we offer a wide range of extracurricular activities, such as sports, music, and drama, to help our students develop their talents and interests. We have excellent resources and facilities, including a well-stocked library, a computer lab, and a science lab, to support our students' learning.
We believe that education is a collaborative effort between the school, parents, and the community. We encourage parents to be involved in their child's education and work with us to create a positive and supportive learning environment. We also collaborate with the community to provide our students with opportunities to learn about the world around them and to become socially responsible citizens.
At Rafi Memorial English School, we are committed to providing our students with a comprehensive education that prepares them for success in life. We are proud of our accomplishments and accolades in scholastic, co-scholastic, and infrastructural development areas, and we are excited about the future of our school. Thank you for choosing Rafi Memorial English School for your child's education.
---
GO BACK